Previously, in the Level Showcase board:
Too Many People wrote: "Sorry, I don't know how to post screenshots."
Meanwhile, pinned to the top of the Level Showcase board:
WreckingPrograms

wrote:

↑

Mon Jun 19, 2017 3:37 pm

Press F9 to make the game take a screenshot for you. This screenshot is saved in %localappdata% > MegaMaker. Please note that images need to be hosted externally; we recommend Imgur for this purpose.
And now, the thrilling conclusion!
Preface:
Before we get into it, I'd like to point out that I use
"Please Don't Jump - Featuring Air Shooter" by InUniverse
as the example in this topic, and it is strongly recommended that you play this level before continuing, as we will be covering the process of making map images, which will of course involve seeing a map of the entirety of the level, so if you'd rather go into it blind (and you should), please go do that before continuing.
It's a fantastic, well-designed level, with an interesting gimmick that you're sure to enjoy playing.
With that said, let's get right into it!
Taking a Screenshot:
As previously mentioned, pressing F9
(typically located at the top of your keyboard)
will take a screenshot in Mega Man Maker.
This will result in screenshots at the current resolution, which can be changed using keys F1-F5.
It is common to use 3x scale (F3), but if you're posting a lot of screenshots, that might be overwhelming.
2x (F2) may be preferred in that case, as they take up less room but are still easy to look at.
1x is best used for stitching together maps, which we'll go over later.
Finding a Screenshot:
To access the screenshots you've just taken, simply press [Windows Key]+[R], and type (or copy & paste):
This will open the MegaMaker directory in your file explorer, where you'll see the directories "Autosave", "Levels", and "Settings", and below that, all your screenshots!
Posting a Screenshot:
Imgur
is recommended, as it does not resize or compress your images against your will, like some other sites do.
There are other services as well, and I recommend using whichever is more user-friendly for you.
Just
don't use photobucket
. That website is garbage.
Using

imgur

:
1. At the top of the screen is a green button labeled "New Post", click it.
2. A window will pop up asking you to drag images onto it, or click Browse to bring up the file browser. Pick a file.
3. Imgur will create your post, and present it to you.
4. Hover your mouse over your image, and two buttons will appear: Copy, and an arrow - click the arrow.
5. Click "Get share links".
6. You'll be presented with 4 copy buttons - click the bottom-left one, associated with BBcode (for web forums).
7. Back here in the forums, simply paste the code you got from the copy button.
8. Click "Preview" to make sure it's working.
Making a Map
So sometimes you'll want to display a map of some or all of your level, and I'm going to explain how to do it.
There are a few different methods, resulting in different types of maps, but it really depends on how much detail you want to express in your level maps.
Making a Micro Map

:
1. Open your level in Mega Man Maker.
2. Click the MAP toggle on the bottom of the screen.
3. Take a screenshot.
4. Open the screenshot in your image editing program (Paint, GIMP, Photoshop, etc.)
5. Crop your map so that only the necessary parts are in the image.
6. Color and edit your map as appropriate, for example, making the screen connections visible, highlighting rooms of interest (such as checkpoints) and obscuring rooms you intend to be hidden.
7. Upload and post your map! (see above)
Example Process:
(using "Please Don't Jump - Featuring Air Shooter" by InUniverse)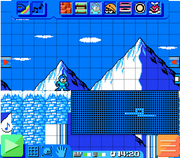 Original Screenshot (click for full)

Cropping the map.

Coloring the map.

Illustrating extended rooms.

Illustrating screen transitions and removing excess grid.
The final result looks like something you'd see in a Metroid or Castlevania game.
Making a Macro Map

:
1. Go to Options on the title menu, and under "Other", toggle the custom cursor off
(he gets in the way of screenshots)
.
2. Open your level in Mega Man Maker.
3. Press F1 to switch to 1x scale (it's not recommended to use larger scale factors for macro maps).
4. Center your view on a screen in your level (the MAP function is great for this).
5. Turn off both the MAP and UI toggles on the bottom of the screen.
6. Open the Backgrounds tool, and select the background used on your current screen.
(see step 9a for no bg)
7. Position your cursor somewhere on the screen so the UI disappears.
8. Press F9.
9. Repeat steps 3-7 until all screens have been saved to your Mega Maker directory.
At this point, I will address screens which use no background image.
In order to get these screens, you'll have to do some editing.
9a. Move your cursor to the bottom of the screen, so that the options bar pops up.
9b. Press F9.
9c. With the UI "off", move your cursor to the top of the screen, so that the tool bar drops down.
9d. Press F9.
9e. Open the first screenshot in your image editing program (Paint, GIMP, Photoshop, etc.)
9f. With the selection/marquee tool, select the top half of your screen, and copy (ctrl+c).
9g. Open the second screenshot in your image editing program (Paint, GIMP, Photoshop, etc.)
9h. If using anything other than Paint, make a small selection including the upper-left pixel of your image.*
9i. Paste.
Now, with any luck, you should have a complete screen, unobscured by unwanted backgrounds or UI elements.
10. Open your favorite graphics editor, and set the canvas size to something really, really big.
To get the exact size, multiply 256 (the screen width) by how many screens horizontally your level takes up.
That's the width of your image in pixels.
Now multiply 224 (the screen height) by how many screens vertically your level takes up.
That's the height of your image in pixels.
Using our example level from before, we ended up with an image of 3840 x 896.
As you can see, although this is quite a small level, it results in a rather large image, and that's why scale factors larger than 1 are not recommended for macro maps.
11. Drag and drop (or copy and paste) all your screenshots into the large, empty canvas we've just created.
12. Arrange the pieces as you go until you have your map!
Optional: Flood fill the empty space in your map with black, white, grey, or a complimentary color, but don't use anything that clashes too hard with the actual map components.
Example Map:
(using "Please Don't Jump - Featuring Air Shooter" by InUniverse)

Click for full view.
Making a Mini Map

:
1. Make a macro map (see above).
2. Resize your macro map to 25% of its original size.
3. Behold your mini map! (it will look like the above thumbnail for the macro map)
P.A.Q.

:
(Potentially Asked Questions)
Q:
Why is this on the Level Design Discussion board?
A:
Because it's intended to help users create additional content for their postings, both here, and in the Level Showcase board.
Q:
I saw a level map without the grid from the editor! How do I do that?
A:
On the options bar at the bottom of the screen is a button which turns off the grid - use that before taking screenshots.
Q:
I saw a level map without all the icons from the editor! How do I do that?
A:
Basically the same as the instructions for the macro map above, only you also have to take in-game screenshots, and copy/paste the parts that would have been obscured by those elements, which effectively removes them.
Q:
I saw a different kind of level map in another topic! How do I make one like that?
A:
It depends on the map, of course, so post a link to the topic, and we'll let you know!
Q:
My image looks like garbage! What went wrong?
A:
Did you save it as a jpeg? That'll do it. Always save as either png if available, or gif if you must.
Aside from that, it's possible your image may have been resized, which may result in blurring.
Q:
Why did I have to make a selection in the upper-left corner of my image before pasting?
A:
The fancier image editing programs paste centrally by default.
By making a selection first, you're telling the program to paste there.
Paint, however, pastes from the origin (upper-left corner) of the image, so no need to make selections there.
This is one of those times where the simplicity of Paint is actually a good thing.
(I'm not sure whether Paint still works this way in Windows 10, someone please confirm)
Q:
How do you record gameplay gifs?
A:
ScreenToGif
and
LICEcap
are both excellent programs for this.
Q:
I'm on Mac! Where do I find the screenshots?
A:
Does this game run on Mac? [insert Apple joke here]