Posts: 2274
Joined: Sun Mar 11, 2018 2:21 pm
Location: Stuck At Doom's Gate
Discord: Ben™ #6759
Contact:
you literally can't type anything in there pls fix
I've come to make an announcement: Bass is a [redacted] He pissed on my [redacted] laptop. That's right he took his robot [redacted] out and he pissed on my [redacted] laptop, and he said his [redacted] was THIS STRONG. And I said "that's OP!" So I'm making a call-out post in my signature...
---
Posts: 1124
Joined: Fri Sep 28, 2018 11:33 pm
Location: Somewhere in Mexico
Discord: https://discord.gg/d8PdzqX | Kun fu Cuts Man#6955
Contact:
?

Please explain
Does this count?
About my fangame, I made a new server and all the things related to it have been relocated there, join here
Finished it.
---
---
He's referring to this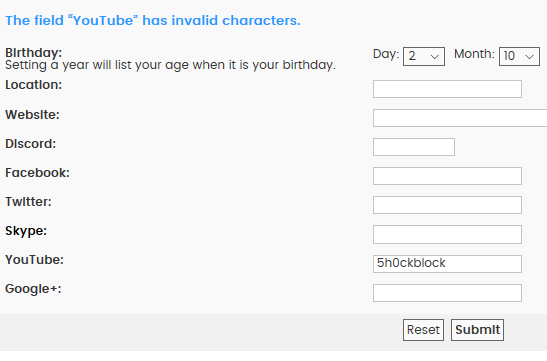 For reference I've tried using both the url to my channel, as well as just using my username and got the same results. anything you type is just invalid.
---
Posts: 548
Joined: Thu Oct 18, 2018 2:42 am
Location: Colombia
Discord: BigMaster#4335
Contact:
Have you tried by using the channel/ url?
I am currently moderating the three main community platforms.
---
figured out why; you're supposed to just put the random string characters after "youtube.com/channel", but the link on profiles goes to "youtube.com/user" rather than "/channel"

I'll have someone change it.
pee
---
Bumping this--it was finally fixed. If you go to your profile page, you should see an explanation of what to place in the YouTube field.

Sorry that this took so long, but thanks for bringing it to our attention.
pee
---
Who is online
Users browsing this forum: No registered users and 2 guests