This bug happens when using MM5 lifts. The character spinning animation is cut short if they come in contact with another lift. However, it specifically only happens when touching another lift when traveling to the right.
This gif shows how if you encounter a lift from left to right nothing happens, but in case it is from right to left the spinning animation stops and restarts.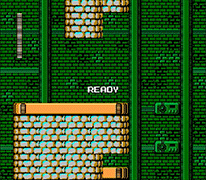 I found the next bug when creating a Gemini Man based metroidvania level. I intended to have the Gemini Laser as a weapon to break through Pole Eggs in the ceiling, but it didn't work as intended.
The Gemini Laser weapon has a bug that makes it unable to pierce through eggs.
The next gif shows the bug in action.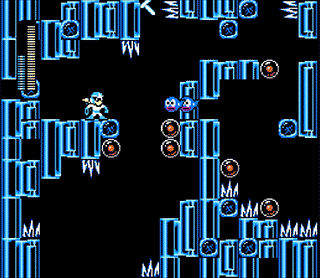 It is interesting to note that after the laser is done reflecting and tries to travel out of the screen it gains the capability to destroy eggs.
In addition, another exception renders it able to pierce through eggs: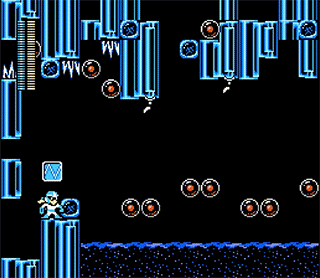 You can notice how if coming from the left, the laser will not break the eggs. However, if shot from the right, it immediately pierces through them. Studying the bug a bit made me realize the only portion of the eggs susceptible to Gemini Laser shots are the upper and right parts. If hit from the left or bottom the laser will treat the egg as a wall and bounce off of it.
In this last gif I would also like to point out how the splash animation is repeated when Proto Man falls into the water-filled bottomless pit, as if he was getting out of water again. This happens whenever the screen to the bottom is not filled with water, even if in the editor it is not filled with anything at all.
Thank you all for this incredible game!