Happy belated New Year everybody!
So I got this crazy idea to compile a list of all the best suggestions I've seen from last year.
Hopefully it will bring some much-needed attention to some features that have so far not been implemented.
Some of these will be my own suggestions, but as with all of them on the list, feel free to discuss!
Share your comments, criticisms, concerns, and possible improvements!
Now, without further ado...
Feedback and Suggestions 2018
Non-Solid Telly Spawners
Currently the Telly Spawners are a solid block which continually spawns Telly enemies.
This makes it impossible to create Heat Man's level, for example, which features passable Telly Spawners in a precarious platforming-heavy portion of the level.
Additionally, spawners could be added for other enemies, or a generic enemy spawner with an enemy select interface.
Upgrade Capsules
Effectively the same as Weapon Capsules, only it would change player abilities.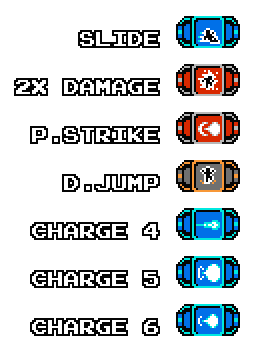 2x Damage is more of a downgrade, and I don't know why you'd pick it up willingly, but hey, what do I know?
Maybe it could toggle the 2x Damage off?
Level Subdirectories
Originally a thread about adding levels to a list of favorites, but with how often users delete their uploads, downloading the levels for local play is more reliable - the only problem being that all those levels crowd each other out, and makes it difficult to find your own levels.
For this reason, subdirectories to break up the madness would be a welcome addition.
Enemies Hold Items
There are a few topics in this thread, but we already covered Telly Spawners, and we hear about Super Arm all the time.
Instead, let's talk about hiding items inside enemies!
Could be a Key, Weapon Capsule, or whatever, and would help prevent players from just tanking hits.
See also
this topic
.
Bubble Lead
Just add it already.
Yoku Block Skins










And there are many, many more in the thread.
Brought up again more recently
here
.
Toggleable Energy Balancer
Sometimes you just wanna play oldschool!
Should be toggled client-side, not likely to be done per level.
More Decorative Tiles
We have various Wily, Cossack, and Mr. X plates, but where are all the other do-dads?
Most notably absent are the large snake bodies from Snake Man's level, but there are also a variety of fans, vents, computer gubbins, and so on that feature in other levels, which are not represented yet.
More Tellies
There are Telly variants that would be nice to have. Also, I'm on about the spawners again. Take the hint.
Auto-Scroll Rooms
Probably won't happen, but would be pretty cool to be able to add segments that auto-scroll.
Disconnected Tiles
Automatically stitching tiles together is usually great, but sometimes it's nice to be able to use tiles differently.
I make an example in this thread, but there are many more possibilities.
For example, the green girders of Hard Tile, with the rock portion immediately adjacent, without becoming more rocks.
More Door Options
Bigger doors, smaller doors, fake doors, powered doors, the list goes on. We need cooler doors.
Favorites Bar
Basically a more convenient place to access the elements you're using for the current level.
Simply add your favorites as usual, then in the main editor, click the button on the left to toggle.
More Enemy Palettes
Red Hot Dogs? Green Mets? Blue Power Musclers? Why not?!
A rather ambitious concept, but even if we just had a few more alt colors for each enemy, that would be rad.
Also brings up screen-specific background colors, which would also be rad.
Editor Zoom
Sure would be great if I could zoom out to get a better view of what I'm working with so far.
That's it. That's the whole request. Get with it.
Background Telly Spawner
Hey, don't look at me like that, I didn't start the topic. There does seem to be a trend here, though...
Mini Map Copy/Cut/Paste
Sometimes you need to make similar room, sometimes you want to delete one altogether, but currently the only option is to painstakingly create the whole room from scratch, or delete it one tile at a time.
We can already (thankfully) drag & drop rooms, but why not copy, cut, and paste?
Resolution and Presentation
This thread is actually from the Level Design Discussion forum.
It was originally about whether or not any one level from the original games had all the assets available.
As it pertains to this list, however, it's more to do with Mega Man Maker as a whole.
It's too much to explain here, just go read the thread. I linked to page 2, as that's where the issue crops up.
And that's the list!
I hope it was at the very least entertaining, and even moreso, I hope some of these features are added in the future.
Please discuss in a friendly and respectful manner.
It's fine to disagree, but remember, there's no need to be rude.